Steve's Photography Site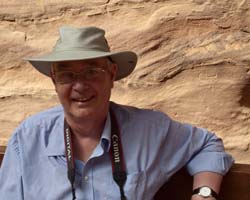 Steve in Petra - Photo by Pat
Welcome to my personal corner of cyberspace. I use the site to show off some of my photographs. If you like what you see, why not get in touch?
Latest Updates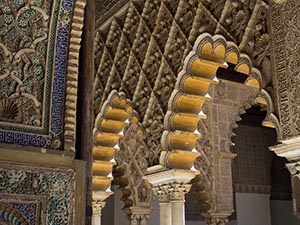 Alcázar Palace, Seville
Seville
In May 2015 we visited Seville to look at the Moorish and Roman remains. The temperature was far to high for us residents of Northern Europe to cope with. Nontheless, despite temperatures in the thirties Celcius, we coped and I experimented with my new Olympus micro-four-thirds camera. It is very much lighter than the cameras I have used before - a real benefit when carrying it in that heat!
The trip was primarily to view archaeology and so involved a lot of travelling betweeen sites. While the Roman sites were special, it was the Moorish architectire within Seville which yielded the best pictures: particually the Alcázar Palace. The only problem here was the number of people. Everyone had the same idea! Everyone was clearly wishing that everyone else would go away. The trick here is to point the camera above the crowds. There is plenty of interesting detail in the ceilings and in the capitals of the pillar create pictures.
Here are some of my pictures of Seville.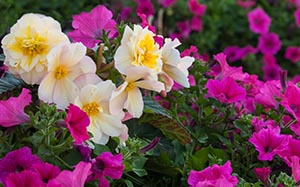 Thornbury in Bloom
Thornbury in Bloom
Thornbury has a rerputation for winning "in bloom" competitions. So, this year, in the week when the judging was taking place, I walked round the town with a camera. Here are some of my pictures of Thornbury in Bloom 2014.
Thornbury Carnival 2014
It rained "stair rods" in the morning. I had just parked my car when the rain started. I was stuck in the car, unable to get out for fear of being soaked, for 25 minutes. By the time the field was open to the public in the afternoon, the sky had cleared. So, here are a few pictures taken at Carnival in the afternoon - after the rain had stopped.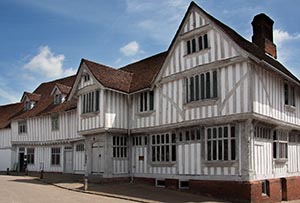 Lavenham Guildhall
Suffolk
We decided we needed a break so we took ourselves off to Suffolk for a week. As it turned out, the weather weas overcast - not good for photography. However, the sun did come out on one day so we took ourselves over to Lavenham.
Lavenham is famous for its picturesque half-timbered buildings. It should also be famous for the non-picturesque cars parked in front of the picturesque half-timbered buildings. Still, I took some pictures and have added them to my previous pictures of Lavenham. You can find them in the "United Kingdom" gallery, under "Travel".