Steve's Photography Site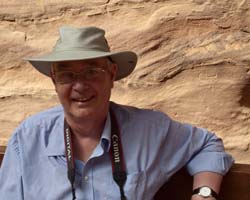 Steve in Petra.
Photo by Pat
Welcome to my personal corner of cyberspace. I use the site to show off some of my photographs. If you like what you see, why not get in touch?
Latest Updates
Thornbury
I live in Thornbury in South Gloucestershire. I have decided to create a page to record some of the places and events in and around the town. To start things off I have uploaded a set of images taken at Thornbury Carnival 2013.
Links Pages
I have just updated the links pages on the site. Several had gone dead and have been removed. In other cases I have come across new sites which may be of interest. There is an amazing amount of useful and inspiring stuff out there. If you come across any other useful links, let me know.
Northern Italy
In June 2013 we visited Northern Italy. There a few pictures of Verona.
Manipulated Venice
Since it has been so wet recently, I stayed indoors and had a play with Photoshop! You can see the result on a couple of Venice images taken earlier in the year.
Jordan
Well, we are back from a totally exhausting trip round the archaeology of Jordan. The highlight, of course, has to be Petra. The books tell you that the "walk in" is just a kilometre. They don't say that it is downhill and that you are going to have to crawl your way back up after a day looking round.
Venice
There are pictures Venice was cold this year - they had snow the week before we arrived. Still, lots of opportinities for pictures - even if my monopod did break half way through the trip.
Slimbridge
Just spent the afternoon up at Slimbridge so there are a few more bird pictures.
Orkney
Once again we succumbed to Orkney at midsummer. The weather in Orkney was variable as it always is... but we really went for the music - the St Magnus Festival. There are general images of orkney, landscape images and images of the archaeology.