Steve's Photography Site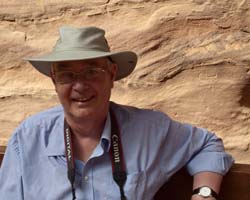 Steve in Petra - Photo by Pat
Welcome to my personal corner of cyberspace. I use the site to show off some of my photographs. If you like what you see, why not get in touch?
Latest Updates
Tewkesbury Abbey
Tewkesbury Abbey
The old medieval abbey at Tewkesbury is not far from Thornbury. Thie town itself is interesting with a lot of restaurants.
The images here are of the interior of the abbey taken on a visit in August 2017.
The images are here.